ImPat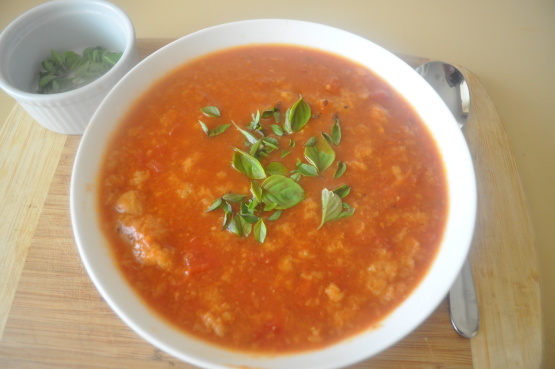 My Aunt Pat who lived in New York used to run an Italian Deli business. This is one of her simple recipes.

Top Review by ImPat
A simple and very filling tomato soup. I made the full quantity and the DM and I had it for lunch. The one aspect I wasn't keen on but which the DM loved was the big chunks of soft bread (I would have preferred crunchy croutons) but a lot of the bread had broken down giving it its thick texture. I used fresh basil leaves and half a small wholemeal baquette cut into large cubes (next time I would cut some smaller so they break down more. Thank you TraceyMay, made for Recipe Swap #44 September 2010.
Put olive oil in a soup pot and add crushed garlic and bread.
Saute bread until golden.
Add beef broth and tomatoes.
Cover and simmer for 30 minutes.
Remove cover and simmer an additional 40 minutes.
Just before serving, add fresh basil leaves or spinach leaves.
Cooking time is approximate.