mosma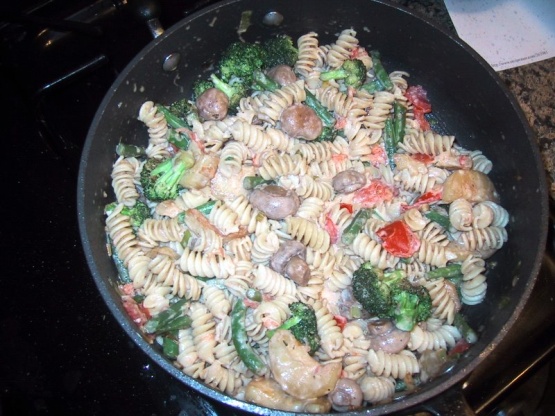 This is the way my grandma made it. Be sure to use a large pot!

Flavor was good. It seemed overall pretty healthy. I only gave it 4 stars because the sauce was runny. I guess I expected a thicker sauce but it had the texture of milk. Recipe would be better with a creamier sauce. Next time I might try to thicken it- add flour to the half and half/ butter as it is cooking??
Saute garlic in olive oil 1 minute; add green beans, broccoli, zucchini, pepper and onion; cook 5 minutes.
Add mushrooms and tomatoes and cook an additional 5 minutes.
In small saucepan, mix butter, half and half and spices until butter melts.
Remove from heat; mix in half of cheese, stirring well.
Toss sauce with vegetables, pasta and remaining cheese.
Note: Following the recipe, your veggies will still be crisp, if you like them more tender, you might want to par-cook the broccoli and green beans first.