Demandy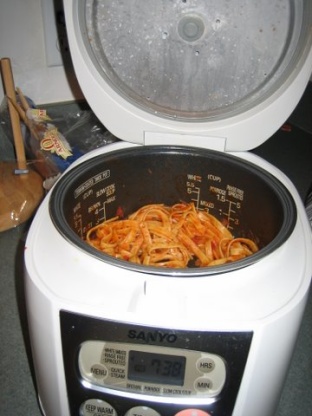 This simple recipe can be embellished upon, or just thrown together as-is. It's written for a ten cup cooker but can be cut down for a 5 or 7 cup. You can sub other pasta for the spaghetti, I just tried it with linguine. Members of the rice cooker cookbook group on yahoo also say this works with alfredo sauce too. From SallysKitchen.com.

Top Review by richir
Perfect! This is so easy, one-pot meal and mom-friendly! I used frozen meatballs that was cooked in the microwave. Followed your direction and viola... perfect pasta. It was not mushy, not overcooked, not dry. The ricecooker knows when to stop cooking so why not use that feature? Thank you, thank you, thank you!
If you have raw meat or sausage you'd like to add, first cook them in the rice cooker pan on Quick Cook or Cook setting.
If you have spaghetti or linguine, break it in half and layer the dry pasta in the rice cooker pan with the meat, if there is any. For other types of pasta you won't need to break it to fit it in the pot. Add water and sauce.
Turn on rice cooker to cook. Stir frequently. When it shuts down to warm, check the pasta to be sure it's done. If it isn't quite done, add some water, stir and turn on to cook again.
For Vegetarian omit the ground beef, meatballs and the sausage.