Parmesan Lemon Herb Brown Rice
Redsie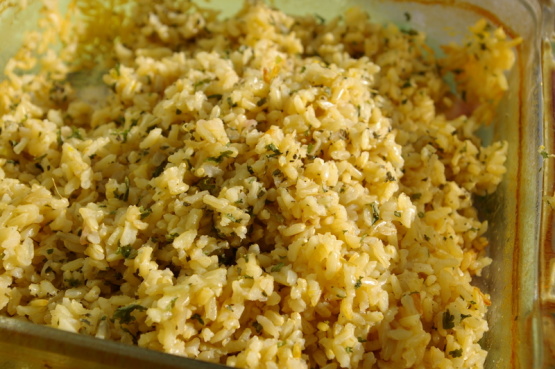 This is adapted from a photo copy from a book or magazine. It says "The Best Light Recipe" at the top. My notes were to increase the lemon and decrease the basil. So I offered that below. Please use fresh lemon and herbs. Using the oven method gives you a fluffy and chewy brown rice instead of wet and soupy or burnt and crunchy.

Top Review by WiGal
Came out perfect! Tasted divine but can't go wrong with these ingredients. Appreciate the ease of oven recipes and will be adding to my Oven 375 cookbook. Thanks Engrossed for posting.
Adjust an oven rack to the middle position.
Preheat oven to 375°F.
Spread rice in a 8x8 glass baking dish.
Combine the onion, oil, and salt in a medium saucepan. Cover and cook over medium-low heat, stirring occasionally, until the onion is softened, 8-10 minutes.
Stir in the broth and bring to a boil.
Once broth is boiling immediately pour it over the rice.
Cover the baking dish tightly with a double layer of foil.
Bake until rice is tender, about 1 hour 10 minutes.
Remove baking dish from oven, uncover, and fluff the rice with a fork.
Stir in the parmesan, parsley, basil, lemon juice, lemon zest and pepper.
Cover the dish with a clean kitchen towel and let stand for 5 minutes.
Uncover and let the rice stand for 5 minutes longer before serving.