Derf2440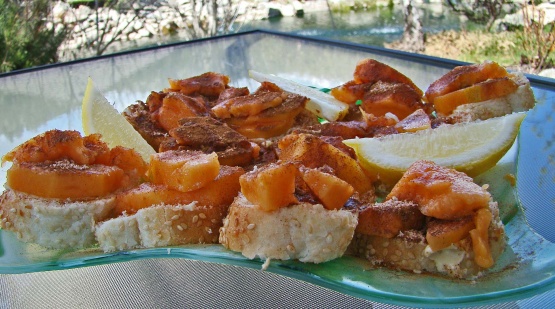 A light and refreshing starter for your summertime meal. From the Southern chapter of the United States Regional Cookbook, Culinary Arts Institute of Chicago, 1947.

Made these for our Sunday appie, they were delicious and so refreshing! my Papaya was quite ripe so I had a hard time cutting it into thin slices, but it didn't matter, I just made one layer of cinnamon and splenda then sprinkled the lemon juice. My mint is not up yet so no garnish, but next time we will have mint leaves. We love them and I will be making them again throughout the summer. Thanks for posting! (photos are comming, I used them for the "shoot now, talk later" thread in the photo forum, A & A has shown me a way to improve them, once I've learned the process I will post them to the recipe. For now if you'd like to see them , have a look in the thread at the great "fix up" A & A did to show me the process.) Thanks Molly for a lovely refreshing Sunday appie!!
Slice the papaya into thin rounds and mix sugar and cinnamon very well.
Butter bread lightly, top with a thin round of papaya and sprinkle with cinnamon sugar.
Cover with another thin slice of papaya and lightly sprinkle lemon juice over top.
Garnish with mint leaves.