Rita1652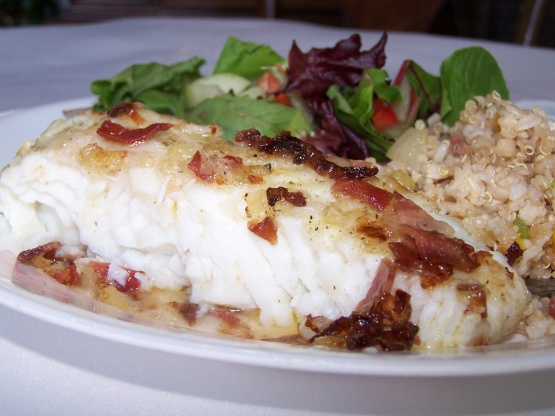 Halibut has a delicate flavor and firm texture. Overcooking can dry it out. So Pan searing and basting with the oil/ butter mixture keeps it moist and flaky. Pan searing adds a nice light crust to the outside of the halibut. Then into the oven to finish cooking.
I was skeptical about this recipe at first but I tried it and it's simple and very good. I didn't have Season Salt so I used Spike seasoning instead. It was perfect! I cut back on the oil and skipped the butter to make it more reasonable in terms of fat grams. Even without the butter/oil sauce, halibut turned out moist and flavorful.
Preheat oven to 350 degrees.
Wash fillet and towel dry of moisture.
Mix cornstarch, seasoned salt, sugar. Coat the halibut with the mixture.
In a saute pan that is oven safe heat olive oil and butter over medium high heat.
Pan sear for 3 minutes on one side flip add shallots and bacon and baste with some of the butter/oil from the bottom of the pan. Sear for 3 more minutes. Continue basting with the oil/butter mixture. Transfer the pan to the oven and finish cooking for about another 6 to 8 minutes.