GaylaJ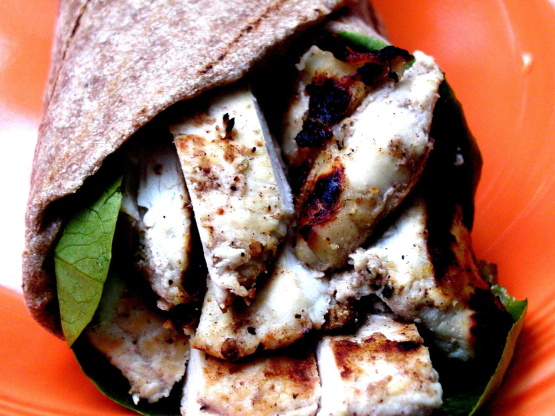 From Steven Raichlen (The Barbecue Bible). Although I think the bone and skin add much to the flavor of grilled chicken, I used boneless, skinless breasts as that is what I had on hand and ordinarily use. I sliced them, and served wrapped in warm, homemade pita bread. Delicious! If you use boneless, skinless breasts, the cooking time will be less than stated. Prep time includes time to marinate.

I made this using boneless chicken thighs. The chicken marinated for close to 18 hours. I used whole milk plain yogurt, too. The recipe was very easy and the chicken delicious over<br/>a bed of basmati rice. Served with a side of steamed green beans, asparagus and carrots.. We used our stove top grill pan. All of my favorite spices in one bite! Made for the Come With Us to Palestine game in the NA*ME forum. Come play!
Rinse chicken under cold running water, drain and blot dry with paper towels; arrange breasts in a non-reactive baking dish large enough to hold them in one layer and set aside (I use a large, heavy-duty ziploc bag to marinate them).
Combine the yogurt, lemon juice, garlic, salt, cinnamon, pepper, cardamom, and cloves in a small bowl and whisk to blend; pour over chicken and spread over breasts to cover completely.
Cover and let marinate, refrigerated, 4-12 hours (the longer the better).
Preheat the grill using indirect heat. See note below.
When ready to cook, oil the grill grate; remove the chicken from the marinade and arrange, skin side down, on the hotter section of the grill. Cook until the skin starts to brown (3-5 minutes). Move to the cooler section of the grill and continue grilling until the skin is thoroughly browned (5-7 more minutes). Watch carefully and use tongs to move pieces away from flare-ups.
Turn the breasts and move them back to the hotter section of the grill. Brown the second side well (3-5 minutes), then move them back to the cooler side of the grill to finish cooking. The juices will run clear when the meat is pierced.
Note: If you are using boneless, skinless breasts, cook on direct med-high heat 4-6 minutes per side.