Paglia E Fieno Al Professore
VickyJ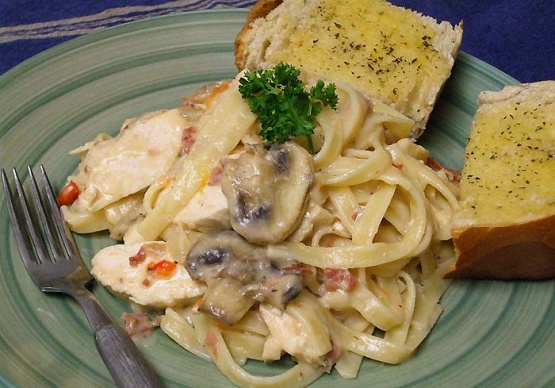 This pasta dish is named after my ddddddh (il Professore), who served as chief taster. I prefer tagliatelle to fettucine -- the noodles are narrower. Prosciutto in Italian simply means ham, and I prefer cooked unsmoked ham for this recipe. Finally, when small cultivated mushrooms aren't available, I use dried porcini mushrooms as explained in the recipe.
Saute the onion in a wide skillet in the olive oil over low heat until softened, about 5 minutes.
Raise the heat slightly, add the garlic and sliced mushrooms, and saute for 2 minutes, stirring often.
Add the prosciutto, tomato and butter and cook for about 5 minutes.
Add the vermouth and cook over medium heat for 2 minutes, stirring often.
Add the julienned chicken, cream, worcestershire sauce, nutmeg, red pepper, salt and black pepper. Simmer and stir for a few moments, then turn off the heat.
(To substitute the cultivated mushrooms with porcini mushrooms, soak 1/2-1 ounce dried porcini in warm water for 30 minutes. Lift out the porcini and wash 2-3 times in fresh water (porcini mushrooms can be sandy). Drain, chop and add to the sauce with the chicken.).
Cook the pasta in boiling salted water, al dente.
Just before the pasta is done, turn the heat under the sauce to low.
Drain the pasta and add it to the skillet with the sauce. Toss evenly and rapidly.
Divide the pasta between two heated plates and serve with the grated Parmesan.