Pacific Northwest Stir-Fried Asparagus & Sugar Snap Peas
Rita1652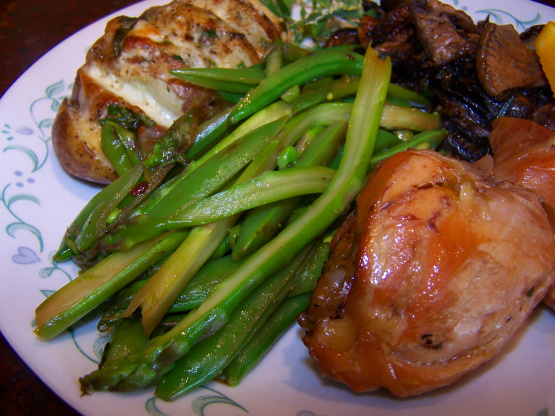 Nice bright crunchy side dish that goes well with Pacific Northwest Poached Salmon in White Wine Bouillon. This recipe is from Taste magazine which is put out by various Liquor Distributors.

This was just sooo good and so easy. I'm so happy to have another terrific recipe from Food.com. I went easy on the red pepper flakes, next time I'll use more, and I will definitely be making this many times more - my 2 favorite vegetables, just so tasty! We had it as a side with stroganoff this time. Just delicious.
Trim tough ends from asparagus and slice stalks diagonally into 2 inch pieces. Place in a large bowl.
Pinch bakc the stem ends of sugar snap peas and pull the string down the length. Add to asparagus in bowl.
In a large skillet, heat oil over medium-high heat; add vegetables and stir-fry for 5 minutes, stirring occassionaly.
Sprinkle with seasonings to taste - be generous!
Continue to cook for 3 more minutes or until veggies are cooked but crispy.
Transfer to a heated dish and serve immediately.