gailanng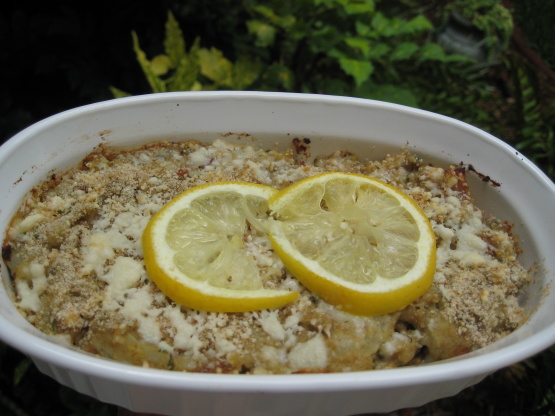 Boy I do love oysters, all kinds, and in all ways. I always have a very hard time when it comes to actually "cooking" oysters, because my true love is always raw oysters on the half-shell. So I took this in stride, and managed along with the recipe perfectly. I followed this exactly, using fresh parm shaved on top. I had cooked the bacon earlier so I just broke up in small pieces. Boy, this was wonderful, I used the full amount cayenne and thought I could add more, but for my DH this was perfect. I made my own bread crumbs and this is so good, make sure you reserve the liquid. I baked for 25 minutes because it's a hot day and it was perfect.I served on some fresh toast points and everything is perfect on Longmeadow Farm. Thank you! Made for *Flower Power* June 2009.
Preheat over 350 degrees.
Saute onions and garlic in olive oil until slightly brown.
Add drained oysters and cayenne pepper.
Cook until edges curl.
Remove from heat; stir in breadcrumbs, Parmesan cheese, oyster liquid and bacon. Mix well. Mixture should be very moist (like stuffing). If too dry, add additional water. Top with additional breadcrumbs and cheese.
Spoon into individual greased ramekins or custard cups.
Bake for 30 minutes.