lets.eat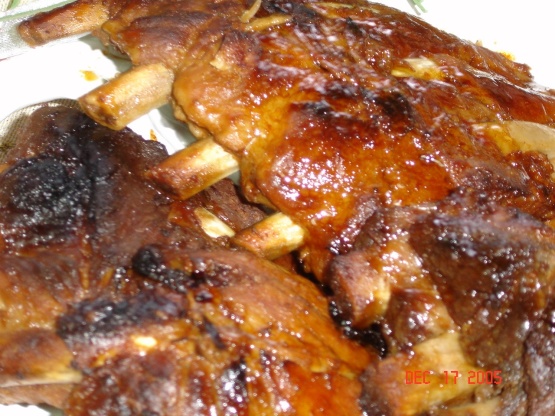 prep time includes marinating

Many thanks to you Pixie these were beyond delicous! I did make a couple of changes, I added about a teaspoon of chinese five spice powder when simmering the ribs and omited the salt and the gingerroot as I had none on hand. I also added two cloves of garlic to the sauce. These were absolutely fabulous we will make them again and again. Thank you again!
Cut spareribs into 1 1/2 inch pieces.
Combine ribs, garlic, ginger, and salt in a large pot with lid.
Add water to cover ribs, bring to a boil, lower heat to minimum, cover and simmer until ribs are tender (approx 1 to 1 1/2 hours).
Drain.
Mix the remaining ingredients and coat ribs well.
Marinate overnight in the refrigerator.
Broil ribs 3 inches from element for 7-10 minutes, basting with remaining sauce.
Turn and broil for 5-7 more minutes.
If preferred the barbeque can be used instead of the broiler.