Oven-Roasted Hash Brown Cakes
Ambervim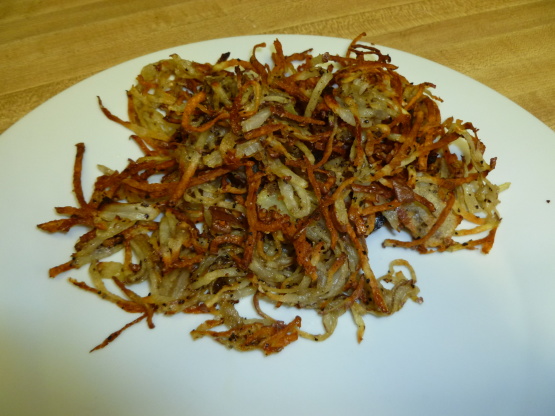 Cooked in the oven instead of fried, these hash browns are not only healthier, but also demand less of your attention. This recipe doubles easily: Shape the extra hash browns into smaller cakes. Bake as directed, checking for doneness a bit sooner than indicated, and cool on the sheet. Cover and refrigerate. Rewarm in the oven, then top with crème fraîche and smoked salmon or caviar for appetizers in the evening.
Preheat oven to 425°F.
Butter large rimmed nonstick baking sheet or just use silpat.
Place onion in large bowl.
Separately, toss potatoes with 1/2 teaspoon salt in medium bowl.
Let stand 5 minutes. Using hands, squeeze out excess liquid from potatoes. Add potatoes, 1/2 teaspoon salt, and melted butter to onion. Toss to coat.
Divide mixture into 4 mounds on prepared baking sheet, spacing apart. Roast 15 minutes, then turn mounds over with spatula, pressing down to flatten to 4-inch-diameter rounds (cakes will still be soft). Reduce oven temperature to 350°F; bake until cakes are golden and crisp around edges, about 30-45 minutes longer.
If you scale the recipe, scale the time.