gerry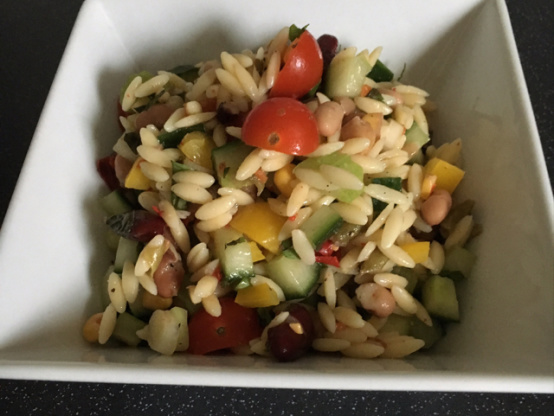 From Food Network website. I love this recipe.

This is a FANTASTIC salad! I halved the recipe for the vinaigrette, and it was a perfect amount for dressing the whole salad. We enjoyed this for lunch on a very warm day, and it will definitely be repeated often all summer! Thanks AJO!
Pour the broth into a heavy saucepan. Cover the pan and bring the broth to a boil over a high heat. Stir in the orzo. Cover partially and cook until the orzo is tender but still firm to the bite, stirring frequently- about 7 minutes.
Drain orzo through a strainer. Transfer orzo to a large wide bowl and toss until the orzo cools slightly. Set aside to cool completely.
Toss the orzo with the beans, tomatoes, onion, basil, mint; set aside.
Mix the vinegar, lemon juice, honey, salt, and pepper in a blender. With the machine running, gradually blend in the oil. Season the vinaigrette, to taste, with more salt and pepper, if desired.
Add enough vinaigrette to orzo mixture to cover. Will most likely not need all of the vinaigrette.