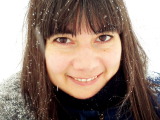 I believe this recipe was already paired together with the Orange Marmalade Chicken recipe (#178046) when my mom discovered them in the Winnipeg Free Press. I prefer to add fresh chopped red pepper and celery for a bit of extra crunch. Water chestnuts are good in here, too.
1 cup rice (NOT instant)
0.5 (60 g) package dry onion soup mix (what's left from the Orange Marmalade Chicken recipe!)
2 tablespoons soy sauce
2 tablespoons cooking oil
1 (10 ounce) can mushroom pieces, drained (reserve liquid)
2 cups water (use reserved liquid from canned mushrooms plus water to make 2 cups)
Directions
Combine and mix well in 1 liter casserole dish.
Cover and bake at 350F for 40 minutes or until done.
Reviews
Most Helpful
Very good rice dish!!! I served with teriyaki chicken and corn on the cob. I used butter instead of the oil and chicken broth for the water to add extra flavor. Thanks for a great side dish!!!!
YUMMMM! But, I missed the mushroom pieces. :D I took it as 10 ounces and had almost that in fresh button mushrooms, so I added so veg. broth and there ya go. Delicious! Thank you!