Orange Zested Cauliflower
Bergy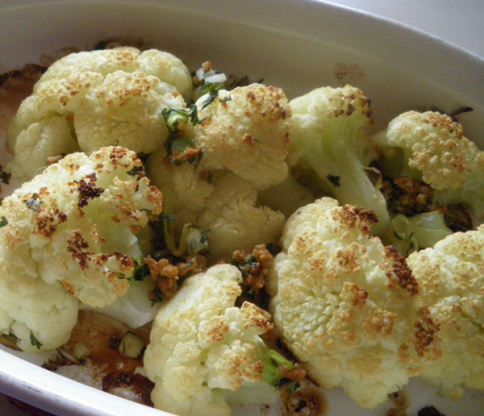 This recipe is from Williams Sonoma Essentials of Healthy Cooking. Soaking the cauliflower in water before baking is important. The moisture creates hot steam that helps the cauliflower to cook to a tender and succulent finish. Serve with lemon wedges. The citrus enhances the flavors in this delightful dish.

Top Review by Bergy
Very nice recipe. I cut it in half - no problem. Next time, and there will be a next time, instead of soaking the cauliflower I will put 2 or 3 tbsp of water in the dish with the cauliflower and cover the dish for the first 15 minutes. I did not use any oil just a no oil spray. Thanks Paula for posting
Core and cut the cauliflower into uniform-sized florets.
Place the florets in a large bowl, add cold water to cover and let stand for 20 to 30 minutes, drain.
Preheat oven to 400 degrees.
Spray a 9 x 13 inch baking dish with non-stick cooking spray and arrange the florets in a single layer in the dish.
Drizzle with olive oil, season with salt and pepper and toss to coat.
Bake until tender and lightly browned, about 30 minutes, stirring and rearranging every 10 minutes.
On a cutting board, combine the green onion, parlsey and orange zest and finely chop together.
Remove the cauliflower from oven and sprinkle evely with onion mixture.
Spoon the cauliflower into a warmed serving dish and garnish with lemon wedges.
Serve immediately.