COOKGIRl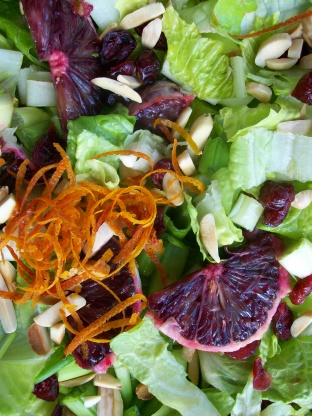 ZWT7, Italy. Crisp romaine/cos lettuce and sweet orange slices are tossed with a light honey vinaigrette. 5 Stars on http://allrecipes.com.au

Delicious! I used the optional orange juice & zest in the dressing & the dried cranberries in the salad. The salad was colorful & tasted so good. I added the recipe to my short list for Thanksgiving planning. Thank you for sharing the recipe!
In a small container with a tight-fitting lid, combine the vinegar, oil, honey, salt, pepper and spring onion, (& orange juice, orange rind if using). Close the lid and shake vigorously to blend.
Place the cos lettuce into a large serving bowl. Drizzle over vinaigrette and toss to coat. Add orange slices (& dried cranberries if using) and toss gently. Garnish with toasted almonds. Serve immediately.