Orange Candied Sweet Potatoes
MISSIB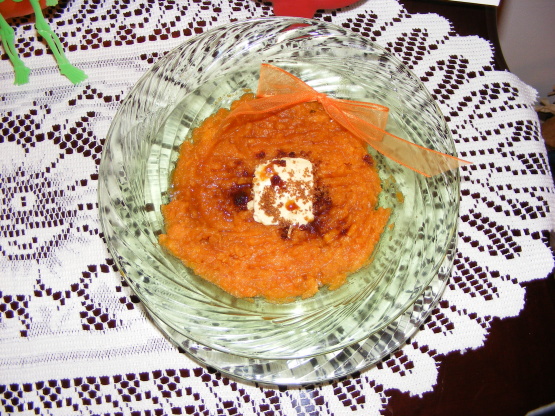 Sweet Potatoes are another food that I just love, although this is not a diabetic recipe by any means, it is good.

Top Review by MISSIB
Although I am not a real big fan of sweet potatoes, I must say these were very tasty. I've never used orange juice before and it add a nice tangy sweetness along with the brown sugar. I like them mashed with the butter and brown sugar and orange juice. Thank you for this great recipe, it is a keeper for sure. On another note, you wil notice I am not great at taking pix that do justice but this shws a pat of butter with brown sugar and the juice poured over it for photo purposes.
Combine sweet potatoes, salt and ½ cup boiling water in saucepan; simmer, covered for 15 minutes or until tender.
Pour off all but ¼ cup stock; dot with butter.
Combine orange juice, corn syrup and brown sugar; blend well.
Pour over sweet potatoes.
Simmer, basting frequently, for 15 minutes.
I like smaller sweet potatoes so I actually cut mine in about 1/3's. Of course the ones we find here in our one and only grocery store are usually huge.