Onion and Mustard Spinach Salad Dressing
This one uses mustard and celery seed...
Directions
Cut onion into large chunks and place in blender with remaining ingredients. Blend well.
I usually use this on a salad made with baby spinach, hard bolied eggs, bacon bits, mushrooms, and a bag of stuffing mix.
Most Helpful
What an excellent salad dressing recipe! It has a sweetness and a tang to it that is almost like a honey mustard. I wasn't sure if I was to use a dry or prepared mustard, but ended up going with a tablespoon of Dijon, which worked out perfectly. I can see why you would use this on a spinach salad. It is very much like dressings traditionally used for them. It's best to keep the salad simple, because the dressing really stands in the forefront. I opted for a spring mix with grape tomatoes, cucumber, and baby artichoke hearts. This makes a lot of dressing, which I am glad about, because I look forward to enjoying this again. Made for Spring PAC 2012.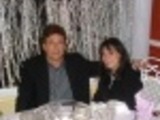 This dressing is delicious! I made it to top a very simple spinach, mushroom and cherry tomato salad. It was perfect! I used a sweet onion in this and spicy brown mustard. This will definately become a regular on my salads. Made for Pick-a-Chef Fall 2011.