Old Fashioned Triple Lemon Cake
diner524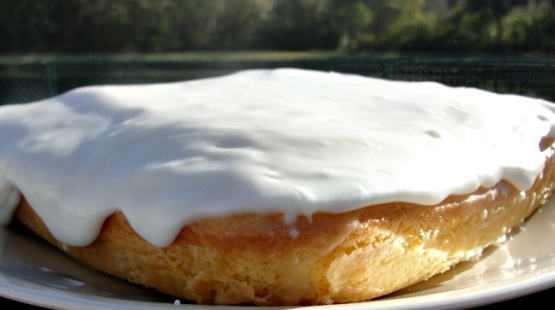 This recipe uses 3 lemons, thus the name "triple". Three lemons will yield enough juice and rind needed for this recipe.
I just love lemon, so I knew I had to try this cake!!! I loved the mixture of sour/tart with the sweet, but others felt it was too tart, what is wrong with them, lol!!! I loved that this is a smaller cake, so not a huge amount of leftover cake, perfect now, for us empty nesters, lol!!! Made for "The Best of 2014" tag game!!
Beat 3/4 cup butter at medium speed of an electric mixture until creamy; gradually add 3/4 cup sugar and 2 tbsp lemon zest, beating well. Add eggs, one at a time, beating after each addition.
Combine the flour, baking powder, and salt; add to the butter mixture. Mix at low speed until blended. Stir in the lemon extract. Pour the batter into a greased and floured 9 inch round cakepan with 2 inch sides.
Bake at 325 degrees for 35 to 40 minutes or until a wooden pick inserted in the center comes out clean. Cool in the pan on a wire rack for 10 minutes; remove from pan. Place cake on a wire rack on a baking sheet.
Combine 2/3 cup powdered sugar and 1/3 cup lemon juice in a small bowl, stirring until blended. Drizzle the glaze over the top of the warm cake. Let the cake cool completely.
Combine 1 3/4 cups powdered sugar, 2 tbsp lemon juice, 1 1/2 tbsp butter, and remaining 1 tbsp lemon zest in a medium bowl; beat well. Spread on top of the cooled cake. Serve with strawberries if desired.