Old-Fashioned Maple Walnut Butter Balls
Leslie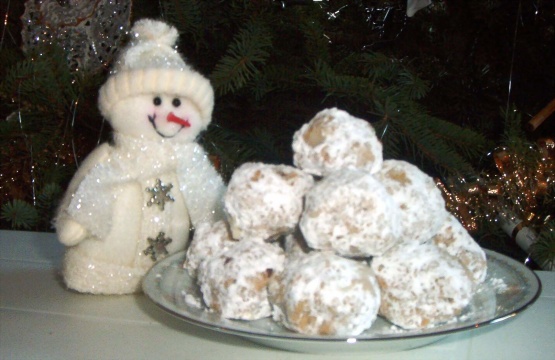 These little maple balls are so buttery, they just melt in your mouth! Better make a double recipe of the delicious cookies, cause your going to need lots! If you don't have any maple extract on hand, just use 2 tsp vanilla instead, it just won't have the maple flavouring, but they are still great.

so i was looking for this recipe and of course it came up by kitten. I only had peanuts, so i crushed them in the food processor and added them in ! Used vanilla and wha-la!
Set oven to 375 degrees.
Prepare an ungreased cookie sheet.
Cream butter, sugar and maple extract until fluffy.
Sift together flour and salt.
Add to the creamed mixture; mix well.
Stir in walnuts.
Shape dough into 1-inch balls.
Place on cookie sheet.
Bake for 12-15 minutes.
Immediately remove with spatula.
When still warm, but cool enough to handle, roll baked cookies in powdered sugar.