Old Fashion' Buttermilk Pancakes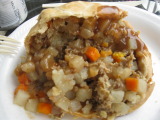 If there's anything that I'm fussy about eating, it's pancakes!!! The biggest mistake people make when making pancake batter is overmixing...you want the batter as lumpy as possible! Any old time cook will testify to THAT!!! I used to be night manager at a small town Mom & Pop cafe in the early 70's. The owner was a cranky old Norwegian that taught me many things about cafe cooking & this pancake recipe was one of them! The cafe has since been long gone & so is Andy & I miss both of them dearly! I've made these for so many years, I just throw it together, so I hope I got everything "write"! LOL!!! EVERYONE that's had these pancakes, especially our nine Grandkids, LOVE 'em!!! This makes a huge batch, but you can cut it in half if need be.
Directions
DO NOT USE ANY ELECTRIC MIXERS OF ANY KIND WHEN MAKING THESE!
Melt butter in small pan or microwave & set aside to cool, but not harden.
In a large bowl, mix together the eggs, sugar, baking powder, soda, vanilla & salt.
Add the buttermilk & stir until well blended.
Add the flour, starting with 1 cup & then ½ cup at a time, stirring until flour is JUST moistened -- you want a medium-thick batter.
Gently, but thoroughly, stir in the cooled, melted butter.
Ladle onto a hot griddle to desired size.
When cakes have bubbles all over, they're ready to flip.
Cook 2-3 more minutes -- flip one more time & cook for 10-15 seconds to get a slight "glaze".
Serve on a warm platter with some good REAL Maple syrup or any of your favorite toppings.
ENJOY!
NOTE: This batter does NOT keep well, so use it wisely ASAP!
Most Helpful
First, ley me just say that I have aleays HATED pancakes! So has my husbanf. Hate hate hate eeew!....I had friend stay over a while ago, and she requested pancakes for breakfast. I happened to have some buttermilk that needed to be used, so I looked up a buttermilk pancake recipe, thats where I camr upon this recipe...oh..my..GOODNESS! We ate the whole batch! Even my husband loves them! I now make these on a regular basis. They are SO delicious and unlike any pancake I have ever had! They are eggy and springy. Not cakey like others, and dont stick to the roof of your mouth. So good!
Hands down this is the best from-scratch pancake recipe I've ever tried, and I've tried probably hundreds. I'm always looking for that one recipe that rises above the rest, and this is definitely it. It doesn't require much more time than a pancake mix, but the results are far beyond anything you'll get from a box. Definitely the recipe to keep for the perfect pancake.
So excited to try this recipe, especially for my pancake-loving college daughter. I followed it scrupulously, cutting it in half. My batter was thin. Nice and lumpy, though, so I went with it. The pancakes were special indeed, eggy (some said too eggy) and light, but not very fluffy. I added a wee bit more flour and got better results. Loved the back story to this recipe. Thanks for posting, we enjoyed these a lot!