Okra Stew (Arabic Recipe)
Hommus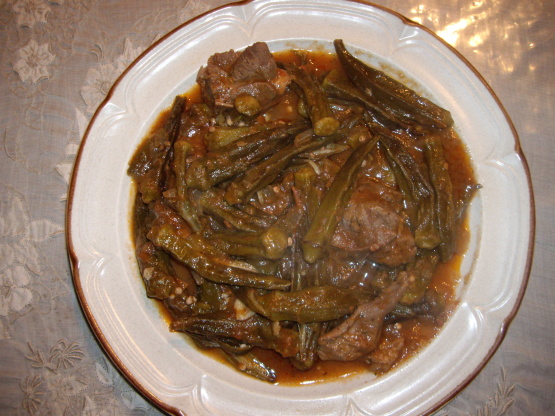 This is a traditional Arabic recipe and is called bamee. This dish is really delicious is very tasty. You can serve it with plain rice.

With my changes this was alright but still needed even more spice. As others have said this is a very basic recipe that needs more spicing than written, and we are not those who like hot spicy. Next time I would add double the garlic and have the fresh cilantro as a requirement. I used my own Recipe #79179 in replacement of the allspice (to give more flavour) but used approximately 2 tsp instead of 1/2 tsp. I did not use 1 tsp black pepper because I was affraid that would become hot spicy so I used about 1/4 tsp. I added a loomi (dried lime) which added its lovely distinctive subtle flavour. I used a canola olive oil mix but would like to use extra virgin olive oil next time. I used small frozen okra which I lightly browned first in oil so as not to have a gummy stew. (Be careful if your okra is frozen the oil will spatter a lot!) I used bone in lamb which I defatted before adding any of the onion etc, by simmering in chicken stock (replacement of the water) and then cooling and skimming. I would try making this again as stated above.
Wash okra and trim off stems, and dry.
Sprinkle okra with oil and place under broiler until lightly browned or fry in vegetable oil until lightly browned (do not use same oil for browning meat).
Sauté chopped onions, diced garlic, lamb meat, salt, and spices in olive oil(stirring occasionally) until meat is lightly browned.
Add water and stir, bring to boil and then cover and cook on low heat until meat is tender.
Add browned okra, chopped tomatoes or (28 oz can diced tomatoes) and ½ cup fresh cilantro or 1 teaspoon coriander (optional).
Mix well, cover and simmer until okra is tender.
This meal is excellent when served hot with rice. See my recipe for rice.