Chill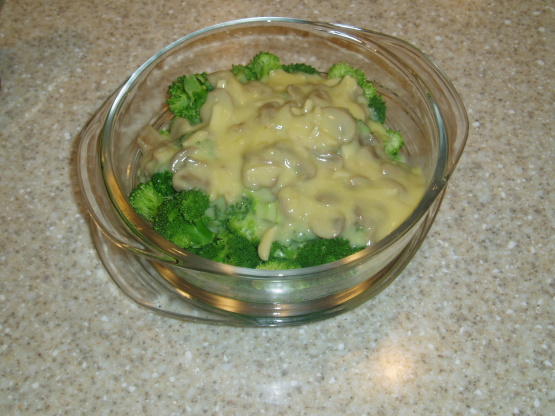 I read an article in the paper which stated that broccoli contains a chemical which kills on contact that bacteria which causes stomach ulcers. I don't care for broccoli, but that is too good a situation to pass up. So I devised this to cover up the flavor and render that ugly vegetable palatable. It worked better than I anticipated. It's really rather good. Give it a try!
1

lb broccoli floret, enough for two

2

ounces lightly toasted slivered almonds

1

package knorrs fat free hollandaise mix (use Smart Blend butter substitute in the mix--great flavor and it's good for you)

1

cup sliced sauteed mushroom

1

tablespoon dry sherry (optional)
Prepare the Hollandaise mix per directions on the package.
Add almonds, Sherry, mushrooms.
Heat through, stirring constantly.
Nuke or steam the broccoli until just crisp tender, as if it were stir fried.
Plate up the broccoli and ladle the sauce generously over it.
Be free handed!