Sara 76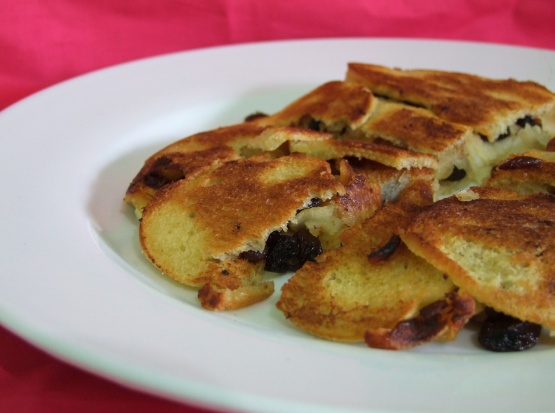 Oepfelbroeisi or apple Rosti is a traditional dish from Switzerland usually served with coffee. Taken from Allrecipes.com and posted for ZWT7

I made this for my 10 year old son as a special breakfast treat, and he loved it! I scaled the recipe back to one serve, and I used sultanas instead of raisins. I held back a few thin slices of French bread, and after stirring all the other ingredients together and cooking the apple down a little, I moved the mixture to the side and so I could line the bottom of the pan with the remaining bread (lightly buttered). I piled the mixture back on top, covered the pan, and cooked it until it was brown on the bottom. This is something I will be making again :) [Made for Aus/NZ Recipe Swap]
Melt butter in a large skillet over medium-high heat.
Lightly brown the bread in the butter.
Stir apples, sugar, and raisins into pan, reduce heat to medium-low, cover.
Cook until a light crust forms on the underside, about 10 minutes.
Flip the roesti onto a serving plate, cut into wedges.
Sprinkle with cinnamon sugar before serving.