Babs7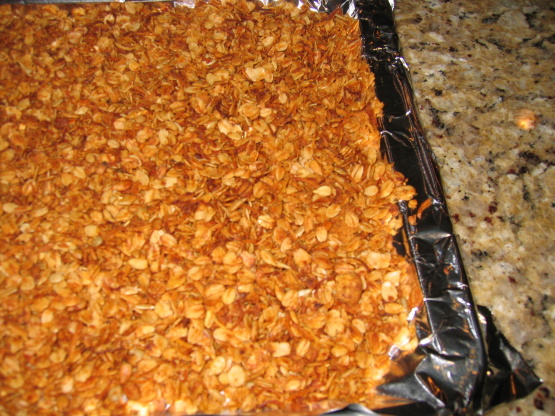 This recipe comes from O.J. Sarah's Restaurant in Santa Fe, New Mexico via the L.A. Times Culinary SOS column. I have had this recipe clipping for over 10 years, and made this recipe many times. The dried blueberries are my addition. This recipe makes a lot, but freezes well. I portion it out in ziplock bags for freezing.

Top Review by Babs7
This was my first attempt at making homemade granola and now I don't think I'll go back to store bought! I love the taste of the coconut and the addition of sunflower seeds give this granola a unique taste. I halved the recipe and stirred every 1o minutes for 50 minutes until the granola was golden brown. I left out the blueberries (since they were a little pricey at Whole Foods). Great granola recipe - thanks!
Combine oil, honey and vanilla and bring to a boil; remove from heat.
Combine oats, bran, sunflower seeds and coconut in a large pan (I use a disposable aluminun roasting pan); pour hot oil mixture over oat mixture and stir well.
Spread in an even layer and bake at 350 F, stirring occasionally (every 10 to 15 minutes), until golden brown; this takes about 1 hour.
Stir in the dried blueberries after removing the granola from the oven.
Store in a large airtight container, or freeze portions in ziplock bags.