Honey, peanut butter and almonds makes a yummy smoothie. Recipe is from Rachael Ray's magazine.
Directions
Using a blender, mix the almonds, milk, peanut butter and honey on high speed until smooth, about 1 minute.
Add the ice cubes and blend until slushy, about 15 seconds.
Enjoy!
Reviews
Most Helpful
The taste is so good with the toasted almonds and peanut butter. But it was too sweet for me. Next time I'll use only 1 tbp of honey. Thanks Lainey :) Made for Potluck tag game
I have made this twice now - once with whole milk and once with vanilla soy milk - and it is delicious. Of course, I love peanut butter, which helps. I am not one for breakfast, so this is great to have on the way out the door. Made for Please Review My Recipe Tag Game.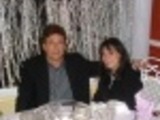 This is tasty for DD1 (5 years old) and but I agree with another reviewer that if you use sweetened peanut butter you would probably find the amount of honey called for too sweet. I used about 2 tbs organic, raw, local honey, organic creamy cashew butter (no sweetener added) in place of peanut butter and found the sweetness fine for us. I used blanched slivered almonds, which I toasted in a dry pan, water instead of dairy, plus the rest of the ingredients. Made for Healthy Choices Tag Game 2013.