Norwegian Lemon Butter Sauce
K9 Owned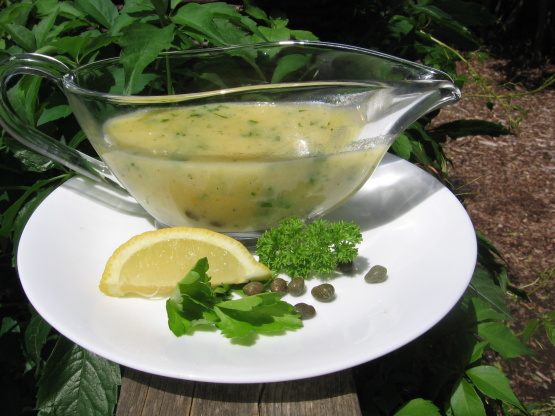 Posted for ZWT6. Adapted from norway-hei.com This sauce has lots of possibilities, easy way to add zing to salmon or veggies (artichokes and broccoli suggested)!

Yummy yummy!!! Because DH and I are strange, we cooked with the capers in the sauce and then we removed them before eating! We like the flavor they leave behind but not the actual capers! Weird, I know! But we did enjoy this immensely over some oven roasted potatoes! Mmmm! Will definitely make this again! Made for The Queens of Quisine ZWT6 Family Picks!
Combine garlic, lemon juice, salt, and pepper in blender until smooth.
Add melted butter and blend. Pour mixture into sauce pan, add capers and parsley.
Heat and serve. For convenience, this can be made ahead of time and kept in the refrigerator.