North Croatian Deer Goulash
nitko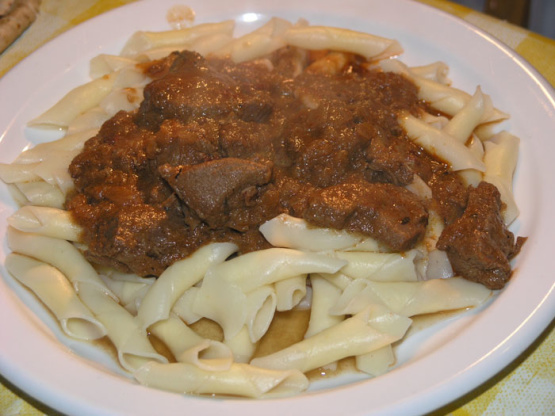 This goulash is very nice and heavy meal, suitable for winter period. Usually we use roe-deer (female, preferably young) because meat is tender. You can use second class parts of meat, muscles. We also put flour noodles (see Croatian flour noodles here on Zaar), but you can put potato pieces in it. If you put flour noodles in it, they must be small.

I was unable to email to ask about the recipe. What cut or grind of meat is called for in the recipe? I look forward to trying all the recipes you have here. My husband's family is from Zagreb and he will enjoy a taste of the foods has hasn't had since he was a child.
If you have old deer it is recommended to keep the meat one day in marinade (wine and seasoning: put all seasoning into gauze cloth and make a small bag). If you have young deer this is not necessary.
Sauté finely minced onion on lard until becomes translucent.
Chop the meat into small pieces (2 – 3 cm large) and add into pot with onion. Add very finely minced pancetta.
Sauté until meat becomes grayish. Add paprika, salt and pepper and mix all together.
Add wine and seasoning bag and cook on easy fire about 15 minutes. Add game stock and cook 60 minutes.
If you are putting potato than use two medium large potatoes, peal them and cut into small cubes and put into goulash. Cook until potato is done.
If you are putting flour noodles (see recipe on Zaar) first cook them separately until they start to flow on surface, than put them into goulash and cook until done (about 20 minutes).
Serve in bowl and eat with spoon.