No Cook Avocado Bisque (Rachael Ray)
jenne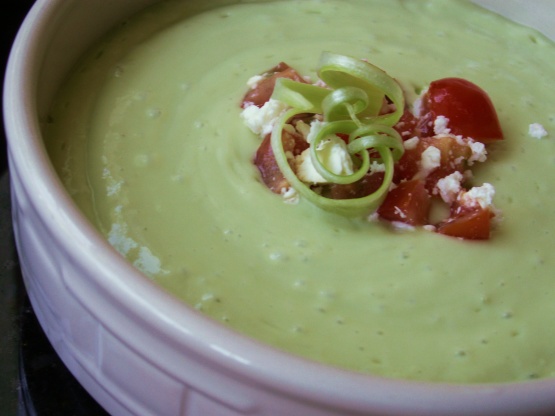 A great summer time soup. 30 minute meal by Rachael Ray. I serve mine aside a wedge salad topped with blue cheese dressing. Fabulous! If you are looking to save a little time, simply place a dollop of salsa on the top and sprinkle with feta. NOTE: I made this today and I suggest that you use 2 large avocados in the soup itself (not just 1 as per the recipe). I also recommend that you just use 1 cup (more or less) to thin out the soup instead of crushing ice cubes (not sure why you do that when you put it in the fridge to chill anyway). Lastly, we LOVED the crumbled feta on the top (actually made the dish to be honest) so don't leave this step out.

This is a surprisingly gorgeous and refreshing soup for hot August nights! Made as directed and wouldn't change a thing. Thanks, JanuaryBride! Made for Diners, Winers, and Chives Mexico challenge for ZWT8.
Using a blender, puree 1 avocado, the buttermilk and scallion whites.
Add the lime peel and three-quarters of the lime juice.
With the machine on low speed, blend in the ice cubes, 1 at a time, until smooth.
Season with salt; refrigerate.
Meanwhile, coarsely chop the remaining avocado and transfer to a medium bowl.
Add the tomatoes, feta cheese, scallion greens and the remaining lime juice.
Divide the soup among 4 bowls. Top with the avocado salad and tortilla chips.
Serve with the remaining tortilla chips on the side.