Nigella's Za'atar Chicken
Axles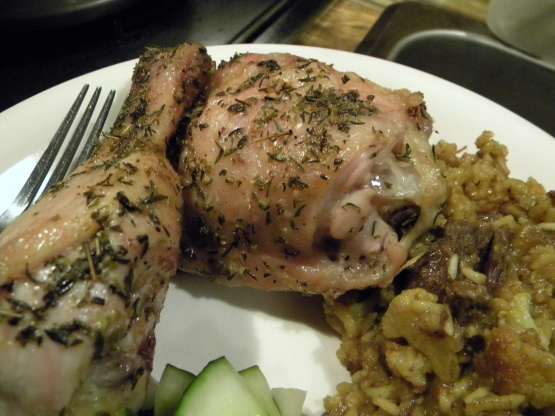 This recipe delivers amazing results with virtually no effort. It's from Nigella Lawson's cookbook "Forever Summer". Za'atar is an addictive Middle Eastern spice blend that you can buy or prepare yourself. Chicken requires at least 2 hours of marinating time. Serve with pita crisps and salad.

Haven't tried this version yet, but I shall. My version, given me by my daughter in the USA, uses a crock pot or slow cooker and is quite delicious and extremely easy -

1 cup dried pitted prunes

1 cup dried apricots

1 (2.5 ounce) jar green pitted Spanish olives, no pimento, drained

1 tablespoon Za%u2019atar spice

1 teaspoon tumeric

1 teaspoon ground cumin

1 teaspoon onion powder

1 teaspoon garlic powder

1 ½ tablespoons olive oil

2 teaspoons dried oregano leaves


1. You may remove the skin from the chicken if desired

2. Fill the bottom of your crock pot with a combination of the dried prunes and apricots in a single layer. Top with the olives.

3. In a small bowl, mix the Za%u2019atar spice, tumeric, cumin, onion powder, garlic powder, and olive oil. Stir to make a paste. Rub the paste all over each piece of chicken. Lay the chicken on the olives, the parts may overlap.

4. Sprinkle with the oregano leaves.

5. Cover, and cook on low for 6 hours; do not overcook or the white meat will be very dry.
In large mixing bowl or resealable plastic bag, combine chicken, oil and za'atar. Rub spices and oil all over chicken pieces. Cover (or close) and refrigerate 2 hours to overnight.
Transfer chicken to baking sheet, skin side up. Roast in preheated 425°F oven 45 minutes.
Sprinkle with salt.