Nif_H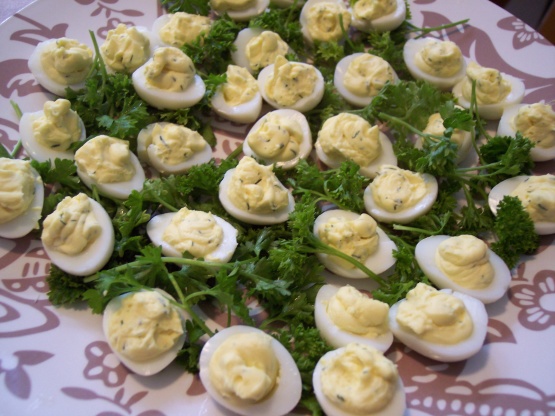 Before you say "EWWW! Quail eggs!!!", you really have to try these. They are a lot like chicken eggs, but smaller (obviously!) and a little smoother tasting. My grocery store carries them but if you can't find them, check out an Asian market. I don't put a lot of seasoning into the deviled mixture because these little guys don't want to be overpowered. They present beautifully on a nest of persley or dill and taste very good. Enjoy!

stunning and delicious. I added a caper to the top of each egg as i only had mayo and felt a need for a little more tang. Just wonderful, so much beter than chicken eggs. Made for zaar tag in the games forum
Heat water to boiling, gently set eggs into water. Boil 5-6 minutes and then rinse under cold water. Do NOT use a rolling boil or the eggs will break. If your eggs do break, keep their yolks anyway.
Let cool completely. Peel eggs and cut in half lengthwise. Pop yolks out into a small bowl.
To yolks, add mayo and dill. Mix very well, then salt and pepper to taste.
Put yolk mixture into a plastic sandwich bag. Pipe mixture into each egg half.
Garnish with fresh dill or chives.