New Orleans' Style Choux Fritters
Jostlori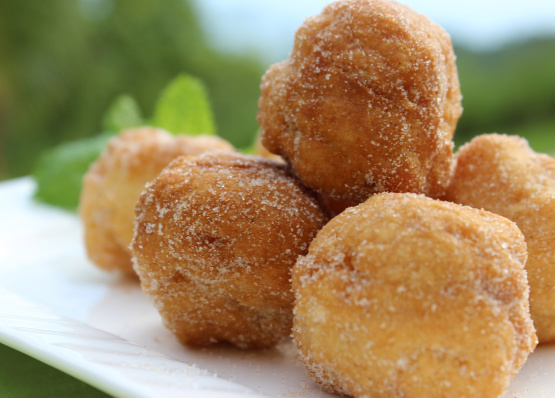 Compliments of Mouseplanet.com this New Orleans' specialty dessert is a much beloved recipe of mine I found online a few years ago. Preparing these fritters brings back cherished memories of trips with my family to Disneyland in Calfornia. The Disneyland Resort sells boxed fritter mixes but why buy a mix when you can make these easily and cheaply at home from scratch? Serve with coffee, hot cocoa or as they do in the South (at least by Disney's interpretation): non-alcoholic mint juleps!! See Disneyland's Mint Julep (Non-Alcoholic)

What a fun treat to make!! These came together really well. The only thing I see lacking is the amount of oil - as 3/4 cup is just not going to be enough for frying. I used about 2 1/2 cups (maybe even a bit more) so there was enough for frying. They are good rolled in sugar but they are great rolled in cinnamon/sugar! Be careful as the size really has to stay around a tablespoon as any larger they are still doughy in the center but browned on the outside. My kids scarfed them down in no time flat! Found and made during ZWT8.
*Melt butter in boiling water, add salt and flour and beat vigorously by hand. Remove from heat as soon as mixture leaves side of pan (this will only take a few seconds.). *For best results use a non-stick pan.
Transfer mixture to bowl. Cool slightly.
Add the eggs, one at a time, beating after each addition.
Heat about 3/4 cup of oil in a tall, narrow pan to 375 degrees. Dip a tablespoon into the oil first to coat, then into the batter.
Carefully drop tablespoonfuls of batter into the hot oil and fry until brown on all sides and fritters are about the size of a small egg. Only cook about 3 or 4 fritters at one time making sure not to overcrowd.
With slotted spoon, remove fritters from oil and drain on paper towel.
Roll in granulated sugar and serve hot. Crank up the Clifton Chenier music to high volume and enjoy the fritters! Aieeee!