New and Old "aargauer Rueblichueche" (Swiss Carrot C
awalde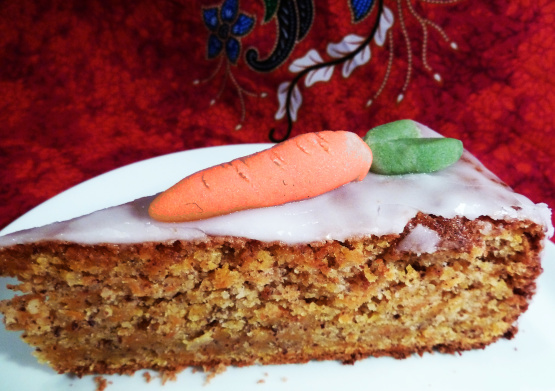 Variation on a Swiss traditional recipe. Moist and beautiful carrot cake.

This is definitely a different kind of carrot cake than I'm used to eating (much less making), but it's very, very tasty & enjoyable, too! I'm a lemon lover, so thoroughly enjoyed the zest in the cake (& I did use a large lemon!) as well as the lemon-flavored icing, which is a very nice change from the usual cream cheese frosting! Thanks for sharing the recipe! [Made & reviewed in Newest Zaar recipe tag]
1 1⁄3 cups sugar

5

egg yolks

1

pinch salt
1⁄2 lemon, grated zest only
1⁄2 teaspoon ground allspice (original recipe 1 pinch cloves ground)
1⁄2 teaspoon ground cinnamon

2

cups carrots (peeled, grated)
1 1⁄2 cups ground almonds (original recipe hazelnut ground)

3

tablespoons white flour

2

teaspoons baking powder

5

egg whites

1

tablespoon breadcrumbs

Glaze

1

cup icing sugar

1

tablespoon ginger lemonade (original recipe lemon juice or kirsch)

Decoration

sugar marzipan carrots (optional)
Beat egg yolks and sugar until thick and soft.
Add gradually step by step lemon zest, spices and carrots, almonds, flour and baking powder.
Beat egg whites until stiff, then fold gently into carrot mixture.
Grease your 10 inch (24-26 cm) baking tin and coat with bread crumbs.
Pour batter into tin, and bake at 350°F (180°C) for about 50 minutes (heat and timing are basing it on convection oven).
Check with a tooth stick before taking out.
Cool down and remove put on your cake plate.
Mix icing sugar and ginger lemonade until well incorporated and spread over cooled cake.
Decorate with carrot-sweets.
Note: I shape the carrots myself with marzipan.