Brenda.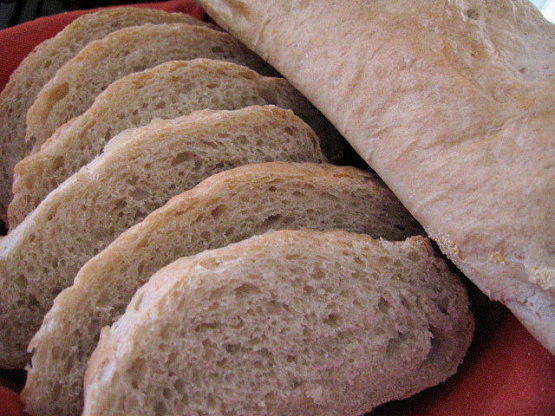 This is one of the easiest bread to make ever. Comes together quick too - 1 1/2 hours to fresh bread. Mmm... Trust me - you can't mess this one up. From my friend Annie.

Quick and easy! A nice recipe if crunched for time but still want home made bread. I patted the dough into rectangles and rolled up tucking the ends under and baked on a cornmeal coated baking sheet. The crust is nice and crispy/chewy. There is one small thing I will do differently next time and that is to brush with egg white just before baking vs before the second rise. It doesn't say to do this but I covered the loaves for the second rise and my egg wash all but disappeared into the towel I used to cover the loaves. Maybe I shouldn't have covered them but 30 minutes seemed like a long time to let the bread stand without being covered. Thank you for sharing :)
Dissolve the salt, sugar and yeast in the warm water.
Add 3 C flour and mix until smooth. Gradually add the remaining 3 C flour. Knead until smooth.
Cover with a warm, moist towel. Let rise 30 minutes.
Divide into two pieces. With a rolling pin, roll each half out flat. With your hands, fold or roll each piece of the dough into a loaf shape. Arrange on a baking sheet or in a French loaf pan.
Score three diagonal cuts across with tops with a razor blade.
Brush beaten egg white on top.
Let rise for an additional 30 minutes.
Bake at 350 degrees for 30 minutes or until golden brown.
Serve with lots of butter.