Pamela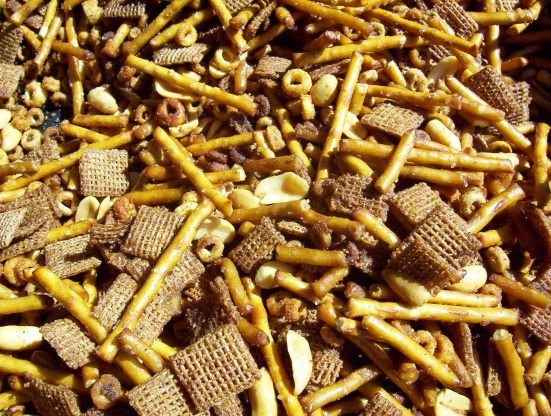 Love to make these at Christmas. Great snack that can be frozen and served right out of the freezer.
Dry ingredients

1

(325 g) box Cheerios toasted oat cereal

1

(325 g) box shredded wheat cereal

1

(275 g) bag pretzel sticks, broken

1

lb salted peanuts (or 1/2 & 1/2) or 1 lb cashews (or 1/2 & 1/2)

Sauce ingredients

1

lb melted butter
1⁄3 cup Worcestershire sauce

1

tablespoon celery salt

1

tablespoon onion salt

1

tablespoon garlic salt
Mix dry ingredients.
Put dry ingredients in a large roasting pan.
Mix sauce ingredients.
Mix sauce into cereal mixture-toss well.
Cover, cook at 225°F for 1 hour.
Remove lid, cook another hour, stirring occasionally.
Let cool, can be put into tins or Tupperware and frozen until ready to serve.