Nanny's Famous Cheese Dip
megs_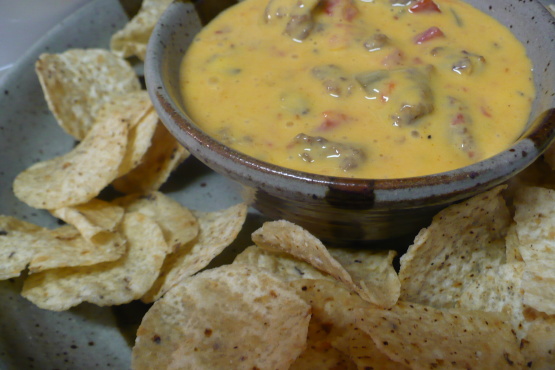 This dip is soooo good! We always had it when we gathered together to watch the big game! Serve it in your crockpot on the warm setting. Have lots of tortilla chips on hand because I've yet to see a person only eat ONE helping of this dip!! ;-)

Top Review by megs_
DH & I loved munching on this for our Super Bowl party! I cut the recipe in half, and used reduced fat sausage and 2% milk velveeta. We really liked the addition of the garlic, it brought queso to a whole new level!! :) I added some cayenne pepper and chili powder to the sausage as it browned for some extra heat. This will be our go-to queso recipe from now on!! Thank you so much for sharing!
Cook the sausage in a skillet until done and drain on paper towels.
In your large crock pot, empty the 2 cans of Rotel,
break the cheese into chunks and add it.
Add the garlic and sausage.
Heat it on high until the cheese melts, stirring often.
Turn the crock pot to the warm setting for serving.
Ladle this dip over a plate of tortilla chips and enjoy!
Feel free to use hot sausage if you like your dip spicy.
I'm totally guessing on how many servings there are. Usually people get so many helpings, the crock-pot is licked clean in no time!