My Sister's Spicy Cheese Ball

This cheese ball is always a big hit in our family. They also make a nice gift. My cousin made them smaller and gave them to her coworkers last Christmas.
Directions
Let cream cheese come to room temperature.
Combine all ingredients in a medium glass bowl.
Mix well.
Shape like a ball and roll in nuts.
Refrigerate overnight for best flavour.
Serve with your favourite crackers.
Most Helpful
10 STARS!!!! Excellent cheese ball! I just mixed it up and tried it...it hasn't even sat yet and it is the best cheese ball I have ever tasted! I will be making this one over and over! Your sister's recipe is a winner for sure! Thanks for sharing!!! :)
Loved it! Can see making this for many a gathering, including this weekend!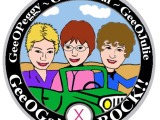 Excellent. When making it I discovered that my husband had not bought cayenne pepper as requested. So I used a little Cajun seasoning and red pepper flakes to make up for it. I also doubled the hot sauce. I took it to work for snack day and it was gone before lunch!