Boomette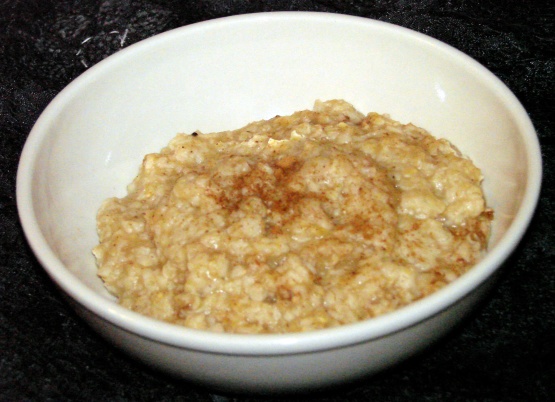 You know that extra can of pumpkin pie filling you buy every fall 'cause it's on sale for a great price? The one that sits in your cabinet til next Thanksgiving, when you start the whole vicious cycle again? This is a great recipe to use it up! I save the rest of the pumpkin pie filling to use in this recipe again or to make muffins. This makes two very generous servings. I keep the other serving in the fridge, wrapped, and just reheat in the microwave.

Sorry I really thought I would love this but this did not have much of a taste. I followed the recipe exactly as written. I even added more cinnamon and Splenda but I think I should have used pumpkin pie spice instead. It was very easy to make.
Bring water to rapid boil in medium sized saucepan.
Add oatmeal, and cook two minutes, stirring frequently.
Remove from heat, and add pumpkin.
Remove to serving bowls, and add milk, if using.
Sprinkle with cinnamon.
Serve warm.