My Mum's Easy and Traditional English Yorkshire Pudding
French Tart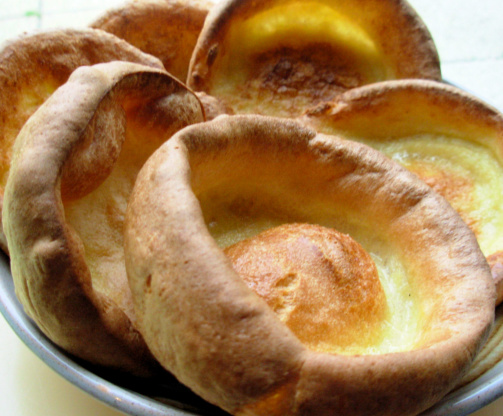 Exactly as the title says, this is my Mum's Traditional English Yorkshire Pudding recipe and it is so easy. It is slightly different from my Toad-in-the-Hole batter recipe, the Yorkshire puddings in this recipe are lighter. (You need a more substantial batter for the addition of sausages!!) I have held off posting this for a while as it is so easy, but it works -please see my photo's! The great thing about this recipe is that it works on equal measures of volume and so there is no weighing or measuring as such. So, if there are only two of you, use a very small cup - if there are a crowd of you, use a big cup, jug or a mug!! Easy! One tip - ALWAYS make sure the oil/fat is SIZZLING hot before you pour in your batter; preheat your tins with the oil/fat before pouring in your batter......that's about it really! NOTE: (I have made the yield between 8-16 individual Yorkshire puddings, depending on the size cup you use. A tip - 4 beaten eggs will make about 8 to 10 Yorkshires.) N.B. My first reviewer quite rightly stated that Yorkshires are often cooked in a large dish/tin; traditionally UNDERNEATH the meat drippings actually!! But, my grandmother & my Mum also made very Traditional Yorkshires in special tins - as photographed; as I understand it, popovers are baked in smaller diameter tins - Yorkshire Pudding Tins have a diameter of at least 4" wide & generally only have 4 holes in a tray!!

I followed the directions exactly but when I was putting it in the pan, I thought this batter is way too thin. It'll never work. When I opened the oven, I was amazed. They were magnificent. I've been trying to make a decent Yorkshire pud for 40 years and this was by far the best. Ate too many but who cares.
1

cup beaten egg

1

cup plain flour
1⁄2 cup milk
1⁄2 cup water

1 -2

tablespoon cooking oil or 1 -2 tablespoon dripping
Preheat your oven to 240C,475F or gas mark 9. (If you are cooking roast beef and/or roast potatoes, make sure the beef has been removed to "rest" before carving and that the potatoes are moved down to the bottom shelf and NEED browning still.).
Pour a scant amount of oil or dripping into your Yorkshire Pudding tins.(A large roasting tin can be used too. If you do not have a Yorkshire Pudding tin which has 4 wide and shallow cups of about 4" in diameter, then use a large muffin tin.).
Put the tin into the pre-heated oven about 5 minutes before you want to cook the Yorkshire Puddings.
Empty the flour, salt & pepper into a large roomy bowl.
Make a dip in the centre and add the beaten eggs bit by bit, mixing as you go along.
Add the water/milk mixture gradually and whisk in between each addition.
Keep whisking until all the liquids have been added. The batter may still be lumpy - this does not matter.
Cover and leave to rest for up to 1 hour.
Just before cooking, whisk thoroughly again to break down any lumps & add some more air.
Carefully take out the tin/s. Pour the batter into the tin/s and QUICKLY return to the oven.
Cook for about 20 minutes until well risen and golden brown. DO NOT open the oven in the first 10-15 minutes or they will DROP!
If you have two tins cooking, rotate the tins from top to bottom shelves after the 10-15 minutes so they cook evenly.
Serve with Roast Beef and lashings of gravy!
Can also be served with any Roast Dinner - we love them with Roast Chicken - see photos!