My Mother's Easy Cucumber Salad With Tomatoes and Chives
Derf2440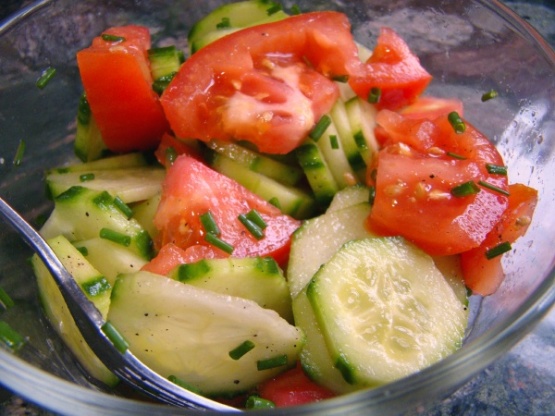 This is the way my mother made a very tasty salad for us, mostly in the summertime. We didn't have the English cucumbers that are available now but use them if you wish. The chives grew in our Chicago suburb garden and volunteered every year -- right next to the old fashioned green rhubarb. The tomatoes came from our "Victory Garden" -- anyone remember those? What memories this salad evokes!

Ha ha, I remember ! my chives are volunteers every year too. This made into a lovely crisp side salad that will be enjoyed often. Simple , easy and quick, wonderful after marinating for 4 hours in the fridge and it will enhance any meal. Thanks for posting.
Peel the cucumber. Sometimes we just dragged a fork down the unpeeled cucumber over and over to create a striped design. Chop the cucumber into quarter-inch pieces. We always included the seeds in the regular cucumbers, but nowadays, chefs would probably leave them out.
Combine the cucumber, vinegar and chives in a medium bowl. My mother used plain white vinegar, but you may wish to experiment with one of the many vinegar varieties.
Chop the tomato into roughly the same size pieces as the cucumber pieces. Add to the bowl and salt to taste.
Refrigerate about 4 hours until nicely chilled and serve with a slotted spoon.