My Favorite Stuffed Mushrooms
Boomette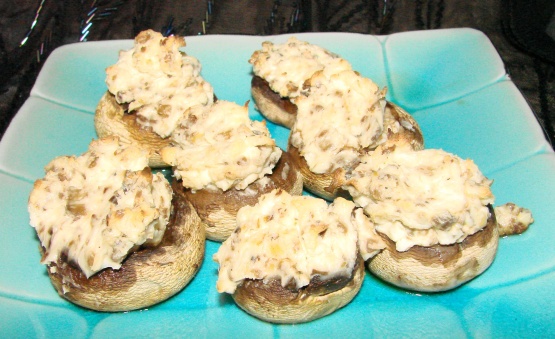 I think the title says it all, although I think these are a universal favorite. I could almost eat them all myself!
Preheat oven to 350 degrees.
Wipe mushooms clean and remove stems. Mince stems finely.
In large skillet over medium heat, heat oil. Saute garlic and mushrooms until soft, and liquid has disappeared. If necessary, turn heat down in order not to burn garlic. Add black pepper, onion powder, cayenne pepper, and Parmesan cheese.
Once thoroughly combined, add cream cheese to skillet. Stir until thoroughly combined, then remove from heat.
Fill mushrooms caps liberally with stuffing. Arrange mushrooms on greased baking sheet.
Bake at 350 degrees for 20 minutes, until liquid forms underneath mushrooms and top is brown and bubbly.