Thorsten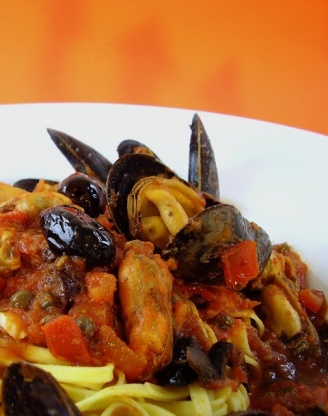 this is an oldie but a goodie

Might be an oldie for you Chia, for me this was new! The combination of the ingredients that made the sauce were great. Thanks for posting this because we eat mussels quite often and I will make this recipe again! BTW..at time of writing this review it says in the ingredients, a 28 oz can of whole tomato puree, I took that for tomatoes and you might want to have that corrected, its probably a computer mistake?
heat oil in a 12 inch skillet.
add garlic and red pepper flakes, stir.
add tomatoes, paste, oregano, basil, capers, olives, and wine, breaking up tomatoes simmer about 15 minutes until sauce thickens.
meanwhile cook the linguine and drain.
raise the heat of the sauce to medium, add the mussels, and cover.
cook 3-6 minutes more until mussels open.
discard any that don't open.
serve sauce over linguine.