Mushroom Stuffed Cheeseburgers
Redsie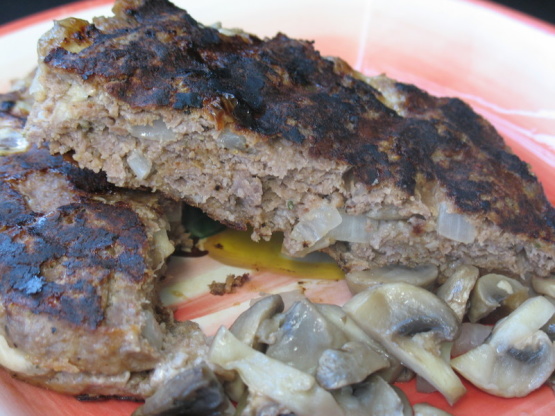 A yummy burger stuffed with sauteed mushrooms!Adapted from Diana Rattray, Your Guide to Southern U.S. Cuisine. Hamburgers originated in Germany. In the USA, New England claims the honor of introducing it, then it's popularity spread all over the US.
Combine ground beef, onion, eggs, bread crumbs, ketchup, salt, and pepper; shape into into twelve thin (about 1/4-inch thick) patties.
Melt the butter in a skillet and sauté the mushrooms until just tender.
Place mushrooms on 6 of the patties. Top with remaining patties and seal edges.
Broil or grill the burgers to desired doneness.
Top each burger with a slice of cheese and let it melt. Serve on split toasted buns. Enjoy!