Mushroom Pepper Pizza, Healthier
ImPat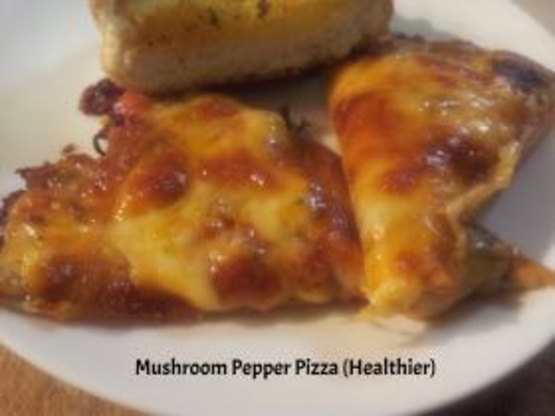 Lighten up and enjoy this healthy recipe for far less sinful pizza pleasure. Optimistically this makes 6 servings but not in my house, 3 people polished it off easily. From Eat Well, Stay Well
In a large nonstick skillet, heat the oil over moderate heat.
Add the bell peppers and saute for 5 minutes or until crisp-tender.
Add the mushrooms, onion slices (if using), oregano and salt, and cook for 4 minutes or until the mushroom liquid has evaporated.
Set aside.
Preheat the oven to 450°F
Spray a 12-inch pizza pan or large baking sheet with nonstick cooking spray.
Pat the dough into a 12-inch round.
Cover and let stand in a warm spot for 25 minutes or until doubled. Bake for 5 minutes.
In a small bowl, combine the tomato sauce and cinnamon.
Spoon over the pizza.
Top with the pepper mixture and the mozzarella.
Bake for 15 minutes or until the cheese has melted and the crust is browned.