Mrs Irving's Delicious Shortbread - Anne of Green Gables
Diana 2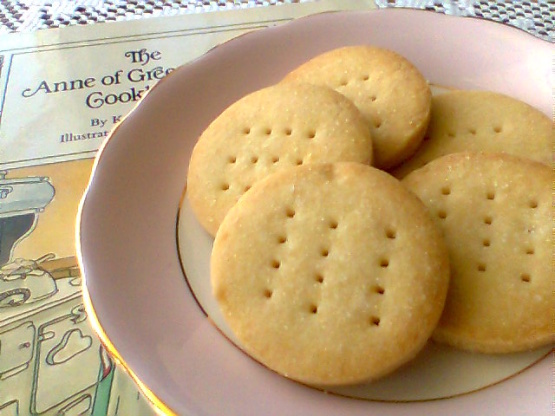 Taken from "The Anne of Green Gables Cookbook", written by Lucy Maud Montgomery's granddaughter Kate Macdonald. I am posting this as it appears in the original book, which was written as a tribute to her father Stuart Macdonald (Montgomery's son). The recipes were written with precise instructions, geared for young cooks. All recipes were apparently tested by a 12 year old cook, with perfect results. Quote from the book: "Of course I'll stay to tea. said Anne gaily. I was dying to be asked. My mouth has been watering for some more of your grandma's delicious shortbread ever since I had tea here before." (from Anne of Avonlea, XIX) Other recipes are available in a cookbook prepared by chef #756627 - book #243014

My dear friend Diana made these cookies to share with us at our Tea Party!!! They are a delicious, crunchy, tasty shortbread! Scrumptious!
Thank you for posting!
You Will Need:.
large mixing bowl.
electric mixer.
measuring cups.
measuring spoons.
medium mixing bowl.
fork.
extra flour for dusting.
rolling pin.
cookie cutters.
metal spatula.
cookie sheet.
extra sugar for sprinkling.
oven mitts.
Preheat the oven to 350*.
In the large mixing bowl, cream the butter with the electric mixer until it is soft, smooth and fluffy.
Add the icing sugar, a little at a time, and beat until smooth.
Measure and add the flour, salt, and baking powder to the medium mixing bowl. Mix with the fork.
Add the flour mixture to the butter mixture and stir until well mixed.
Dust the rolling pin and a clean place on the counter with the extra flour. Turn the dough onto the floured surface and roll it out into a large circle - about 1/4 inch thick.
With the cookie cutters, cut the dough into any shapes you like.
With the metal spatula, lift the shortbreads onto a greased cookie sheet. Place them about 1/2 inch apart. Prick each shortbread twice with a fork and sprinkle with sugar.
Bake the shortbreads for 20 - 25 minutes until they turn light brown around the edges.
With oven mitts, remove the cookie sheet from the oven. With the metal spatula, immediately lift the shortbreads onto a plate.