Annacia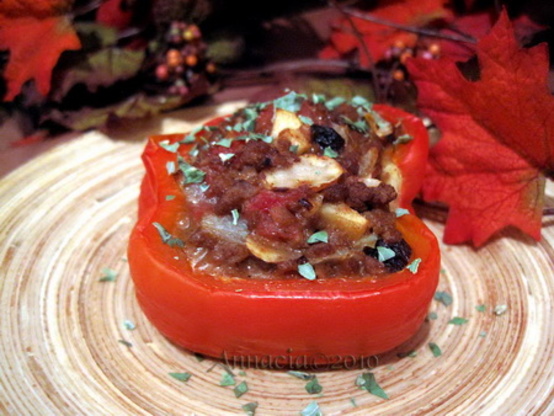 Stuffed bell peppers with a twist! Not your usual rice and beef stuffed peppers, but a mix of meat, delicious spices, fruit and wonderful pine nuts! Great recipe!

I wasn't exactly sure what to expect from this recipe but it was really good. I found to my shock that I didn't have the olives that I would have sworn I had so I added a pinch of salt to make up for not having them and I had to use a pepper that I had cut for another purpose but there was enough to make a nice meal for me. Almonds were used in place of the pine nuts and were great. I do expect that I'll make this again but I'll add some Ras elHanout seasoning next time to give it just a little boost but that is personal taste only and this recipe stands well as written.
Cut off the tops of the peppers, and remove the seeds and membranes. Cook the peppers in boiling water to cover in a Dutch oven for 10 minutes or until tender. Drain well, and set aside.
Saute onion and garlic in oil in a large skillet over medium heat, stirring constantly, until tender.
Add the ground beef, and cook until the meat is browned, stirring until meat crumbles. Drain.
Combine the meat mixture, apple, and the next 7 ingredients. Mix well.
Stuff the reserved peppers with the meat mixture; place in a greased 13x9x2 inch baking dish.
Bake uncovered at 350 degrees for 25 to 30 minutes or until thoroughly heated.