Moroccan Oven Roasted Sesame Potatoes
ImPat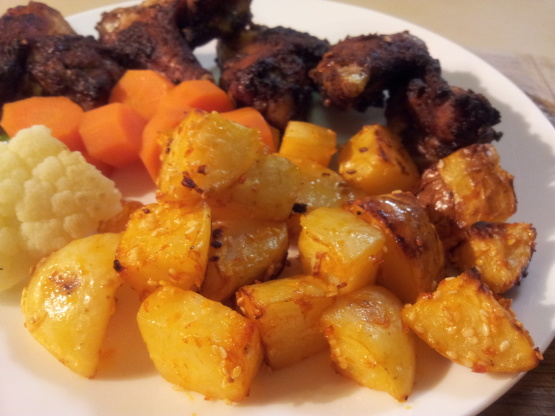 I decided to to make this with some potatoes I needed to cook, as well as some harissa I had and a huge bag of sesame seeds that begged using. It's quite enjoyable with just a little spiciness. Goes great plain, with more harissa, ketchup, or a little yogurt dip.

Top Review by ImPat
What a trip down memory lane did this recipe take me down, 50 odd years ago my dear departed dad made a roasted potato like this and it has always stuck in my memory bank and no matter how much I pleaded him to make again he would not so I am so happy to find this recipe, thank you so much Sue Lau, made for Name that Ingredient tag game
Preheat oven to 375F.
Peel the potatoes if you like, but as long as they are well scrubbed, they give a nice earthy taste if you leave them on.
Cut the potatoes into chunks about 1-inch large across.
Place the chunks into a bowl and add harissa and toss until potatoes are evenly coated.
Add olive oil and toss again.
Sprinkle potatoes with salt and sesame seeds and toss one more time.
Spread foil on a large baking sheet and oil lightly (foil helps with clean-up later).
Place seasoned potato chunks on baking sheet in a single layer.
Bake potatoes at 375F for 30 minutes, then using spatula, turn potatoes so that the other side can cook, and bake 15 minutes more or until potatoes are tender and deep golden.
Squeeze lemon over potatoes before serving.
Serve at once.