Bergy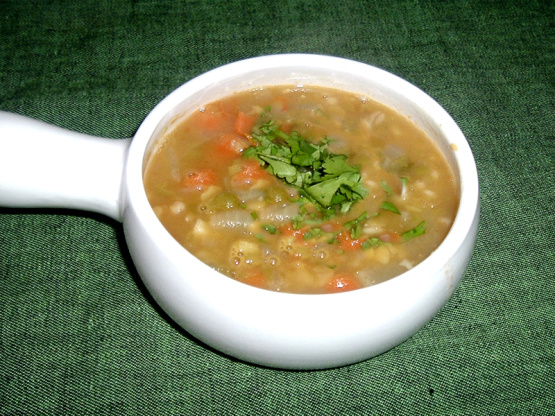 This is a delicious, healthy, colorful soup. From Fields Of Greens by Annie Somerville. Freshly toasted and ground spices really make a difference here.

MMMMMMMMM!!!! This was SO good! Thank you for sharing! I did add just a couple things, like I used french lentils and added a cup of red. Also I threw in a pinch of cardamon and cinnamon. I also added some diced potatos (I know, not really moroccan...) but I wanted to make it a little bit heartier. I also removed about 1/3 of the soup and pureed it, adding it back into the soup. I like my soups to have the illusion of creaminess....it turned out so good! Thank you for posting this recipe!
Pick over and rinse the lentils and place them in a soup pot with the cold water.
Bring to a boil, then reduce heat and simmer, uncovered, until tender, about 20 minutes.
While the lentils are cooking, heat the olive oil in a medium sized sauté pan and add the onion, 1/2 tsp salt, and a few pinches of cayenne.
Cook over medium heat until the onions are soft, 7 - 8 minutes; then add the diced vegetables, another 1/2 tsp of salt, and the spices.
Cook for 5 minutes, then stir in the garlic and ginger and cook for another minute.
Add the vegetables and the tomatoes to the lentils and their broth. Cover and cook for 30 minutes.
Season to taste with salt and cayenne.
Garnish with the cilantro.