Moroccan Grilled Chicken (sbd)
PetsRus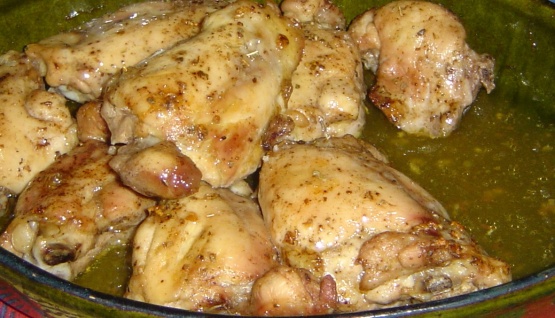 This chicken is is marinated in the olive oil and spices for 30 minutes or more. Good served with couscous and Red Piniento Sauce. This recipe comes from The South Beach Diet.com.

This was very good but did not struck me as Moroccan. I added some salt and for the rest stuck to all the ingredients listed. I did not make it using chicken breast because skinless thighs were on special offer! So I roasted the chicken at 350F for approx 40 minutes. It turned out really good and juicy with a soft spiced flavour. I will make this again, and use the thighs again too, but will also add some cinnamon to the spices to give it that Moroccan touch.
Combine the oil, oregano, allspice, cumin, cloves, and garlic in a large bowl; Add the chicken breast and cover with olive oil minture and marinate.
Cook on a preheated grill over medium heat for about 30 minutes or until the juices run clear when the chicken is pierced; Serve with side dish of your choice.