CoCaShe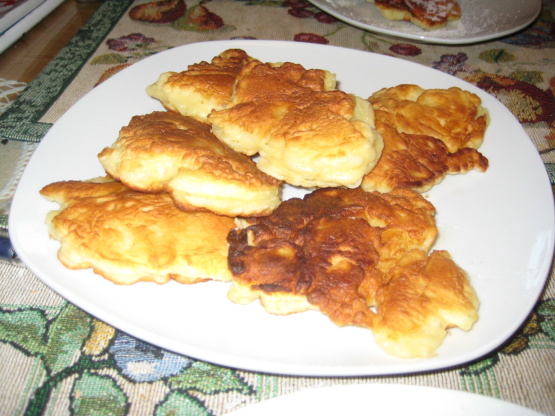 This may sound like a breakfast dish, but my mom actually makes these for dinner. She'll usually make a soup as an appetizer, and serve these pancakes with sugar, sour cream, jam or even whipped cream, depending on your preference.
Place flour, egg, salt and baking powder in a bowl. Stir and add milk just until batter holds together. It should be pretty dense.
Add apples to the batter. My mom uses a lot of apples, so the batter looks like apple slices coated in batter rather than batter with apple slices in it.
Heat oil (any vegetable or canola oil with minimal flavour) in a frying pan. Turn heat down to med-low and add large drops of batter. Depending on how much milk and how much apple you used, the batter will be more runny.
Cook about 2 minutes per side, or until brown and set. Turn and brown other side. The batter will start to bubble around the edges when it's ready.